HISTORY
The John Curtin Memorial Hostel (now John Curtin Aged Care) was named after John Curtin, Prime Minister of Australia from 1941 to 1945, who was born in Creswick.
The building's foundation stone was laid on the sixth of January 1985 which would have been John Curtin's 100th birthday.
John Curtin
John Curtin, the son of a policeman was born in Creswick in 1885. His life was not privileged and he left school at 13 to find work.
He moved to Melbourne where he worked as a newspaper copy boy. He made up for his short formal education by reading books which sparked his interest in politics. From there he went on to be arguably one of Labor's and Australia's greatest Prime Ministers.
Funds for the building came from a capital grant from the commonwealth government and a community fund raising effort strongly supported by the then Creswick Hospital Board of Management.
John Curtin Aged Care has grown and developed since it opened to 36 residents in 1987.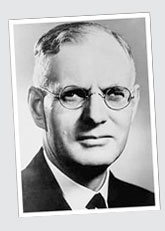 1990
10 extra beds were gained, enabling 44 permanent and 2 respite beds
1992-2002
5 independent living units purchased, and 12 built. Enabling people to maintain their independence in a supportive environment
2004
A new 16 bed facility the Peacock Wing (see below), opened in October 2004, designed specifically to cater for the needs of people with dementia. Features include courtyards, an infection control laundry, walk in spa bathroom and a lounge area complete with fireplace and surround sound for movies. Yallambee beds recommissioned as "C" wing
2009
The Hostel changed its name to John Curtin Aged Care to better reflect the services provided and the social and political changes to the aged care system since its inception
2011
John Curtin Aged Care commenced planning for redevelopment of the original building
2014
Building of 2 extra Independent Living Units
2017
Complete refurbishment of Wing D, providing updated facilities which reflect our future intention. Development of new laundry, resident cafe and gymnasium.